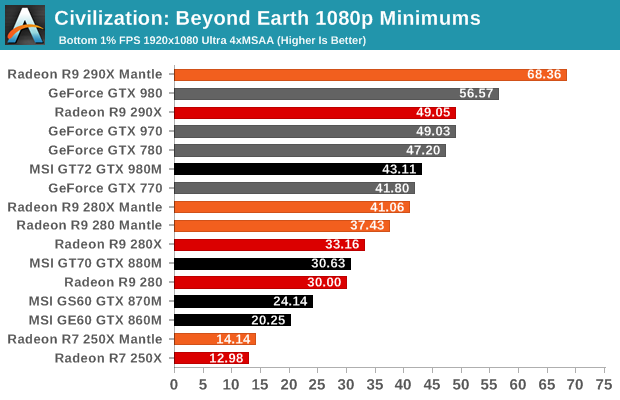 Games offers us fun and enjoyment. When I bought my 290 I decided to buy that due to Mantle as it was a developing technology at the time it appealed to me as you would have the benefit of process technology evolving while you had the card.
The above shows one reason, the Min fps means using Mantle the game don't slow down. Average and max fps doesn't mean the same experience. It means while you would think its better to drive faster it just isn't. To think its better is to negate what gaming is about, its experience to enjoy the visual and gameplay. Min fps allows your game to be more smooth so it then would feel better playing vs faster which wouldn't be as smooth.
Like a day at the beach, you wouldn't want to run around doing a lot of stuff you would want to stay with a few things and doing them well.
That for me has been a great thing with Mantle.
Naturally it isn't perfect, dice for example mess up BF4 so Mantle haven't been working properly the last few weeks with BF4.
Still looking forward the Dragon Age Inquisition game with mantle.